Maldon Festival 2021 Programme
'The Fresh Start Festival'
All concerts (unless stated) are at St Mary's, Maldon CM9 5HP – restricted audiences to achieve social distancing: programme may be subject to change
In the case of bad weather, the open air events will be moved indoors.

Festival Pass £125.00 – £105.00 (*). Please email themaldonfestival@gmail.com for more information.
2021 Opening Recital 'The King of Instruments'
Friday 25th June, 7.30pm, St Mary's Church
Organist Daniel Moult puts St Mary's new Klais/Hey Orgelbau Pipe Organ through its paces.  A renown concert organist, Daniel is recognised for his skill and imagination in drawing every aspect of colour that can be produced by 'The King of Instruments'.  This concert showcases all the excitement, passion and pathos that can be produced by an organ, especially when played by 'one of the finest organists of our time' (The Organ).   
The concert will include some of the best recognised and most loved organ pieces alongside a few less familiar compositions.  It is also an exercise in time travel for organ music starting in the 17th century and progressing to the 20th. 
The concert programme includes: 
J.S. Bach: Toccata, Adagio & Fuga (BWV 564)
Bach's Toccata, Adagio and Fuga includes one of the longest known pedal introductions composed by Bach.
J.A. Guilan: Tierce en Taille & Basse de Trompette
J A Guilan has been described as reaching the summit in expressiveness for his time, as illustrated by this short piece. 
W.A Mozart: Fantasia in F Minor
Mozart's Fantasia in F Minor was originally composed for a mechanical clock before being transformed for the organ and the origin of the piece is evident making listening to the piece a unique experience.
J. Francaix: Suite Carmelite
J Francaix was known to be influenced by Ravel, Stravinsky and Poulenc and the Suite Carmelite evidences the drama, lightness and wit that he took from these composers.
G.Thalben-Ball: Pedal Variations
One of the major skills in organ playing is the use of the player's feet to add in layers of sound.  This piece offers an enchanting opportunity for the audience to appreciate the skill and dexterity involved and the extra-ordinary effects that can be achieved.
Harold Britton: Gershwin Variations
'I got rhythm' joyfully reinterpreted for the organ combining Gershwin's talent for an outstanding tune with Britton's extraordinary vision for optimising the scope of organ music.
Tickets £18.00 – £22.00
Lunchtime Recital: William Foster, Organ
Saturday 26th June, 1.00pm, St Mary's Church
Programme
C.H. Parry: Fantasia & Fugue Op.188
C.H. Parry: Elegy (for April 7, 1913)
Bridge: Adagio in E major from 3 Pieces for Organ H.63
Walton arr. R. Gower: Popular Song from Façade
Franck: Choral No. 1 in E major FWV 38
Performer: William Foster
William was Head Chorister at Chelmsford Cathedral, where he began his organ studies under Oliver Waterer, then Laurence Lyndon-Jones. He was appointed Organ Scholar of St Mary's, Maldon in January 2013 at the age of 15, then Assistant Organist in September 2014. He has toured the USA, UK, Germany, France, Italy, & Spain as an organist, playing amongst others the famous organs of St Thomas' Fifth Avenue, St Bartholomew's, New York, and Barcelona Cathedral. He is now a student at the University of Cambridge.
Free (with retiring collection)
Fascinating Rhythms
Saturday 26th June, 7.30pm, St Mary's Churchyard
The inaugural open-air concert of the 2021 Festival, this will be a joyous celebration staged in a stunning setting featuring St Mary's church as the backdrop. Relax and enjoy classic jazz standards that set feet tapping and the mood soaring. This concert celebrates the best of jazz vocal music from arrangements of Gershwin, Arlen, Porter and Rogers to new takes on Joni Mitchell, Billy Joel and Michael Bublé.
Performers
Jazz artists Michael Dore and Jacqueline Barron are joined by John G Smith on the piano and Zoltan Dekany on the bass to banish the blues and put the swing back into our lives.
Michael Dore's career ignited when he worked with the Swingle Singers and since then he has performed in notable venues such as Carnegie Hall and the Lincoln Centre and has toured across the US, Canada, Europe, Asia and Africa to great acclaim.
Jacquelin Barron brings a sprinkle of West End magic to all her performances, reflecting her success in roles such as Christine in Phantom of the Opera.  She has also been a leading light in successful touring shows such as The Magic of the West End Musical, Showstoppers and West End Nights Broadway Lights!
Tickets £18.00 – £22.00
This event will be moved indoors in the event of bad weather.
Lunchtime Recital: Ewan Cacace, Organ
Sunday 27th June, 1.00pm, St Mary's Church
Programme
Flor Peeters: Festival Voluntary
J S. Bach: O Mensch Bewein
Guilmant: Lamento
Mendelssohn: Adagio
Walther: Allegro
Performer: Ewan Cacace
Ewan Cacace started his musical training as a chorister in the choir of Chelmsford Cathedral. In 2018, Ewan took up a place to study French Horn at the Junior Guildhall School of Music and Drama. He has been organ scholar at St Mary's since 2019. Ewan has been awarded a place to read music from September this year at Durham University, where he will also be an organ scholar.
Free (with retiring collection)
'Magic and Fantasy' Violin and Piano Duo
Sunday 27th June, 4.00pm, St Mary's Churchyard
This concert is set in St Mary's churchyard with its stunning views across the Blackwater providing a perfect setting for this afternoon performance of violin and piano music. 
The concert programme includes:
Beethoven's Sonata 7 in C Minor Op 30 no. 2 
According to one writer, this mood shifting music travels through anguish to ecstasy encompassing everything from fist-shaking rebellion to tranquillity and calm. It is both questioning and accepting and provides a fascinating and cathartic journey for its audience
Schumann's Fantasie in C major Op 131 
This is a rare opportunity to hear this piece which, in comparison to much of Schumann's repertoire is now rarely performed in concert.  Schumann is recognised as a prominent composer from the early Romantic period and this is a beautiful expression of his favourite fantasy form and which is based on the sonata principle.  
Performers
Krassimira Jeliazkova-Jones
From Bulgaria, Krassimira Jeliazkova-Jones has performed extensively as an orchestra player, chamber musician and as a soloist, around the world. She was deputy leader of the Moscow State Academic Symphony Orchestra from 1998-2000. She has lived in the UK since September 2015.
Elizabeth Mucha 
Elizabeth Mucha is a Scottish-Polish pianist with a wide and varied career that has taken her throughout Europe, the Americas, and the Far East as a critically acclaimed accompanist, chamber music player and solo pianist. She has broadcast for BBC Scotland, BBC Northern Ireland, Radio 4 in Holland, Radio Alberta Canada, Philippine television and Radio MEC in Brazil.
Tickets £17.00 – £20.00
This event will be moved indoors in the event of bad weather.
*RESCHEDULED* 
Silent Movie Night – 'City Lights'
Please see Friday 16th July 2021
'Children's Concert' Piping Up – an introduction to the Organ
Saturday 3rd July, 12.00pm, St Mary's Church
The mysteries and magic of St Mary's new organ will be revealed by Tristan Mitchard. From pulling all the stops out to putting the pedal to the metal, this brilliant introduction to the 'King of Instruments' promises to lift the lid on organ music and blow the rafters in St Mary's clean of cobwebs.
Performer: Tristan Mitchard
From 7-13 years old Tristan Mitchard was a chorister in New College Choir, Oxford. At 18, Tristan won an Organ Scholarship to Oxford University. Since then he has performed on the organ solo in USA, China, Korea, Australia, Israel, Mauritius, Barbados and in Europe, including to 3,000 people at the Hammersmith Apollo, London. Tristan has also built and patented his own organ called the Zebra. It is designed with the keyboards on an angle, so the audience can see all the notes straight on, including the pedals.
Free (with retiring collection)
Open Air Opera Gala for a Summer's Evening
Saturday 3rd July, 6.00pm, St Mary's Churchyard
Bring a picnic and prepare to enjoy an evening of open-air opera in St Mary's Churchyard.  Hand Made Opera presents a selection of operatic favourite performed to the backdrop of the Blackwater estuary on a mid-summer's evening.  The concert is dedicated to a regular performer at the Festival Vince Lawlor who died in December 2020 and will feature some of his favourite works from Gilbert and Sullivan.  Enjoy exerts from Puccini, Bizet and Donizetti as the evening sunlight illuminates the stage.
Tickets £15.00 – £18.00
This event will be moved indoors in the event of bad weather.
Lunchtime Recital: James Housego, Piano
Sunday 4th July, 1.00pm, St Mary's Church
Programme
Scarlatti: Sonata in E major K. 380
Beethoven: Piano Sonata Op. 57
Rachmaninov: Prelude Op. 23 No. 4
Chopin: Ballade Op. 23
Performer: James Housego
James Housego has been organ scholar at St. Mary's Maldon since 2018. With St Mary's Choir he has performed in Coventry and Carlisle Cathedrals, and has toured to Germany. Since 2020 he has been lucky enough to study piano with international pianist, Daniel Grimwood. In September this year, James will start a BMus course at the Guildhall School of Music and Drama, where he has also been awarded a generous scholarship.
Free (with retiring collection)
Festival Choral Evensong
Sunday 4th July, 6.00pm, St Mary's Church
The Choirs of St Mary's Maldon and Richmond Parish Church join together to celebrate evensong.  This particularly English tradition of choral evensong evokes great peace and calm, providing solace and uplift in equal measure. The programme includes the setting of the Evening Canticles by George Dyson in the key of D. The anthem will be Draw us in the Spirit's tether by the American composer Harold Friedell to mark American Independence Day.
Free (with retiring collection)
Organic Jazz at St Mary's
Friday 9th July, 7.30pm, St Mary's Church
BBC Jazz award winner and Mercury Music Nominee Kit Downes brings the beat to the steeple showcasing the astounding potential of the organ when it comes to delivering jazz.  One of The Maldon Festival's flagship concerts, this outstanding evening of amazing Jazz music is set to be amongst the fortnight's most popular events.
Performer: Kit Downes
Having toured the world playing piano, church organ and harmonium with his own bands, Kit enjoys confounding expectations and delivering delight in equal measures.  This ability has involved Kit with artists such as Squarepusher, Thomas StrØnen, Aidan O'Rourke and Django Bates.  He has staged projects for the Aldeburgh Festival as well as Manchester Jazz Festival and London Jazz Festival.  His work has also been commission by the National Youth Jazz Orchestra, The Royal Academy of Music, The Wellcome Trust, Darmstadt Organ Festival 2015, Folded Wing for BBC Radio 2, BBC Jazz on 3 and Jazzwise Magazine.
Tickets £18.00 – £22.00
CANCELLED
This concert has been cancelled as a result of the performer having to isolate due to Covid exposure. The concert will be rescheduled for a later date.
Bernstein, Chichester Psalms and other great choral works
Saturday 10th July, 7.30pm, St Mary's Church
The Choir of St Mary's, Maldon
Colin Baldy, Director
William Foster, Organ 
Programme
Leonard Bernstein:  Chichester Psalms
Leonard Bernstein, composer of West Side Story, was commissioned to compose these joyful pieces by Dean Hussey for the choir of Chichester Cathedral in 1965. The new pipe organ in St Mary's will be joined by harp and percussion for a performance in this original Chichester Cathedral version.

Gabriel Jackson: Mass of St Mary
Gabriel Jackson was born in 1960 and is one of the major living composer's. St Mary's is fortunate to have received a generous donation to fund the commissioning of this work, which will receive its premier at the dedication of the organ on 20th June.

Gerald Finzi: God is gone up!
Finzi wrote his God is Gone Up for the annual St Cecilia's Day Service at St Sepulchre's, Holborn in 1951. It requires a good organ (and organist) and shows the instrument in its full glory. It has become a favourite of English choral repertoire.

Benjamin Britten: Rejoice in the Lamb.
With its colourful depiction of a variety of animals, Britten's Rejoice in the Lamb (also commissioned by Dean Hussey but this time for the choir of St Matthew, Northampton), is a tour de force for both choir and organ.

Charles Ives: Variations on "America"
Variations on "America", is a challenging organ arrangement of a tradition tune. Composed in 1891, the piece is an arrangement of the tradition tune known as "America (My Country, 'Tis of Thee)". 
Maurice Duruflé: Prélude from Suite Op.5

The Prelude is the first of three movements from Duruflé's Suite pour orgue, Op.5, composed in 1933 and dedicated to his composition teacher Paul Dukas. The Prelude is the perfect demonstration of the range and power of the organ.
Tickets £12.00 – £15.00
CANCELLED



This concert has been cancelled as a result of the performer having to isolate due to Covid exposure. 

Lunchtime Recital: Matthew Foster, Organ
Sunday 11th July, 1.00pm, St Mary's Church
Programme
J.S. Bach: Prelude in E-flat BWV 552 
Jacques van Oortmerssen: Nun ruhen alle Wälder
Gustav Holst, arr. Arthur Wills: Venus (from the Planets Suite) 
Louis Vierne: Légende (from 24 Pièces en style libre, Opus 31)
Louis Vierne: Cathédrales (from 24 Pièces de Fantaisie, Opus 55) 
Louis Vierne: Finale (From Organ Symphony No.5, Opus 47) 
Performer Matthew Foster
Matthew Foster is reading music at Lincoln College, Oxford, and is Organ Scholar of the College Chapel  Prior to this he was Organ Scholar at St Edmundsbury Cathedral where he taught and performed, as well as continuing studying piano and organ.  Matthew began his musical career in 2008 as a chorister at Chelmsford Cathedral. In 2016, he was offered an Organ Scholarship at St Mary's Church, Maldon.  He has played for a variety of services and concerts in Chelmsford, Newcastle, Peterborough, Carlisle, and Coventry Cathedrals, and abroad in Bavaria and Bruges.
Free (with retiring collection)
CANCELLED
This concert has been cancelled as a result of the performer having to isolate due to Covid exposure. The concert will be rescheduled for a later date.

Soul Collective on the Barges
Sunday 11th July, 4.00pm, St Mary's Church Yard
Soul Collective closes the 2021 Festival in party style with an evening of great entertainment in St Mary's Churchyard, just above the barges, as sadly, the recent roadmap changes have forced a change of venue. Soul Collective is a band based in Essex who faithfully reproduce the great sounds of the golden eras of Soul, Motown and Disco. They last performed for the Maldon Festival at The Party on the Farm in 2009. There will be a licensed bar and food will be available. There is no ticket for this event but please give generously to the buckets or card readers circulating during the gig. Bring your own deckchair!
Due to the Government guidelines this event has been moved from Hythe Quay to St Mary's Church Yard. 
Free (with retiring collection)
This event will be moved indoors in the event of bad weather.
Silent Movie Night – 'City Lights'
Friday 16th July, 7.30pm, St Mary's Church
Rescheduled from Friday 2nd July as a result of the performer having to self-isolate due to Covid exposure.
Festival favourite, Jonathan Eyre improvises the musical accompaniment to Charlie Chaplin's most celebrated movie. The silent movie night recaptures the magic of the time when movies were accompanied by an improvised soundtrack played on the organ or piano. This year, Jonathan Eyre will again create the atmosphere of cinema's golden age, creating the soundtrack for Charlie Chaplin's iconic movie 'City Lights' which is ranked by the American Film Institute as the 11th best American film ever made.
Tickets £15.00 – £18.00
Maldon Festival Exhibitions of Art
'Sacred Spaces'
Weekends from  25th June, St Mary's Church
Saturdays: 10:00 – 17:00 
Sundays: 11:15 – 17:00
Other times by arrangement, please call 07775 518493
Space has been a relevant topic of conversation this past year because it has been universally restricted. Limitations on movement has magnified the desire to assign meaning to space, often of a sacred nature. 
This exhibition focuses on the nature of sacred space. Principally it celebrates sacred spaces which function as sites for organised religions. Depicting sacred buildings such as cathedrals, temples and monasteries in a collection of expressive photographs and artwork, the exhibition aims to capture the versatility, diversity and beauty of those sacred spaces used for worship.
In offering this visual homage to sacred space, the artists hope to bring viewers closer to those sacred spaces for which access has been limited, and to highlight the importance these spaces have for those who use them.
Liz D'Ancona
Liz D'Ancona's photography takes us across the globe. Her images of sacred buildings, and people using them for worship, capture the rich and multifarious traditions of the sacred in various cultures.
Liz d'Ancona is a mother of three and a graduate of The Photography Institute.  
Born and bred in Essex, she has spent many years overseas, most notably in Asia, where much of her work concentrated on travel, street and landscape images.
After being in Singapore for five years she relocated with her family back to Maldon in the Summer of 2019.
Sacred Spaces is her first exhibition and she is very excited to showcase some of her pictures from her travels around Asia.
Elspeth Manders
Elspeth Manders's artwork is closer to home, depicting Chelmsford Cathedral and St Mary's Church in Maldon. She explores sacred space in an expressive idiom of colour, texture and imagery.   Her background is in the arts: she graduated from the University of Oxford with a BA in Music, and has since continued to perform and compose music, and to create visual pieces of art.
She has carved her niche in oil painting, expressing imagery through an iridescent impasto style and impressionistic panache. Her works examine the safety and comfort of the quotidian, the beauty of the tangible surrounding world, and the wonder and unimaginable scale of the cosmos.
Elspeth exhibits art across the UK and regularly takes commissions. Recent projects include a double music and art commission as part of Essex County Council's Essex 2020, a mural commission for Wilding Chelmsford as part of Chelmsford County Council's Future City project, and a canvas creation for Chelmsford Cathedral's Colours of Hope campaign. In 2018, her painting Copernican Model was used as the cover art for an academic journal published by Taylor and Francis Group, Handbook of Primary Care Ethics.
Free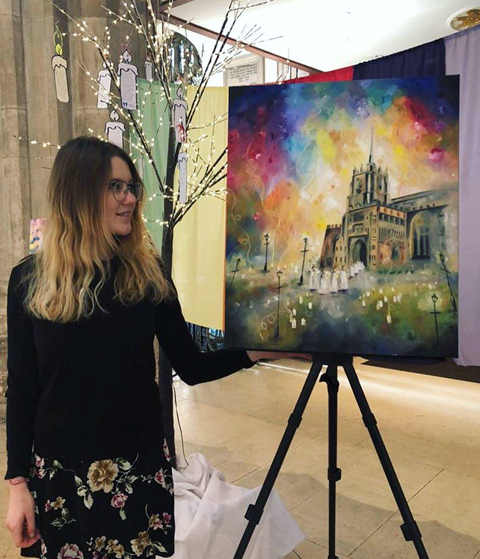 'Catharni Stern Exhibition'
Weekends from  25th June, The Octagon, St Mary's
The sculptor, Catharni Stern lived and worked for most of her life in Maldon. Her work characteristically was of people in some sort of context or other. For many years she worked in a building behind the butcher's shop on Cromwell Hill before moving to the Hythe. She exhibited regularly in London mainly bronzes. 
Though the exhibition in The Octagon at St Mary's Church does not include works of hers in public collections, the examples of her work included in the exhibition provide a representative selection of her output. Her productivity and dedication whilst living in the town over many years are things in which Maldon should take pride.
Free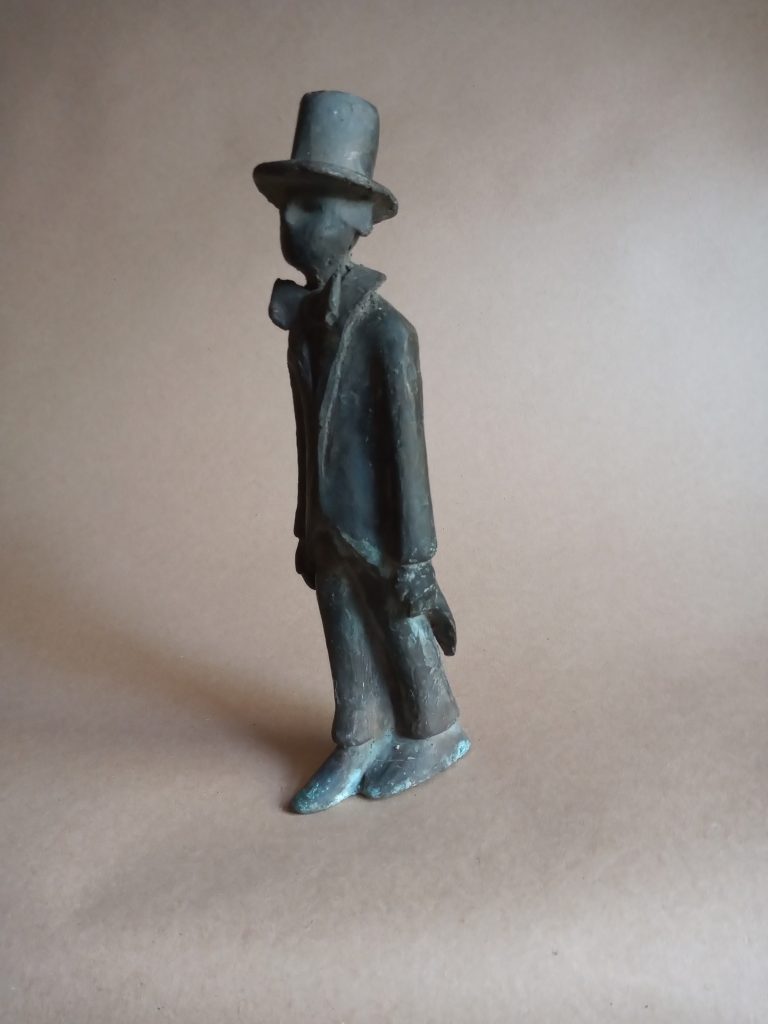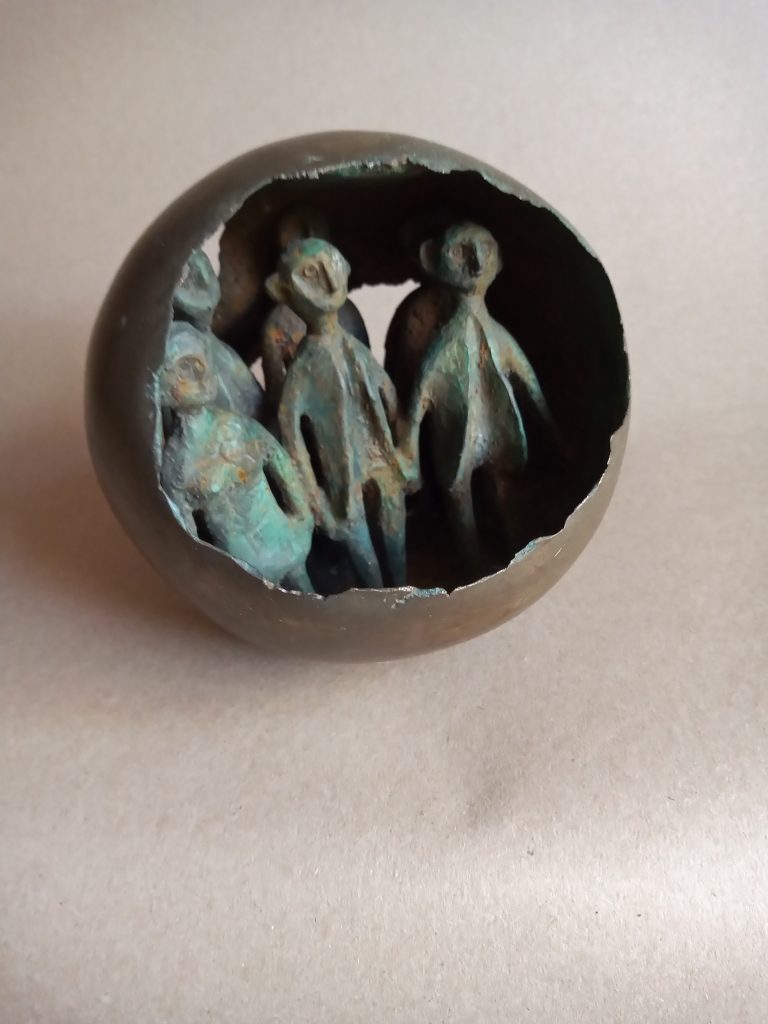 'Nature Outlined'
17th June to 3rd July. The Maeldune Heritage Centre
Animals and birds captured from the local Essex landscape feature in this exhibition of work by Ailish Warner. This is a return to the Festival by the Essex based artist, who had a sell out exhibition her in 2019.
In her watercolours, Ailish combines her love of wildlife and birdlife with her love of colour and abstract work. Many of her artworks are mixed media with a combination of very realistic renderings of wildlife and birds with abstract and seasonal backgrounds incorporated into the artwork. Working in a variety of different mediums has allowed her to never grow tired of using the nature of Essex as a continual theme.
Ailish started her print making journey using lino cutting to produce relief prints in her unique and free cutting style. Over the last few years she has revisited many more forms of printmaking including collography, where the printmaker uses cardboard and a variety of different tools and mediums to produce unique printing plates. During the lockdown conditions Ailish has also produced a joyful collection of monoprints and etchings some of which are included in the exhibition.
Free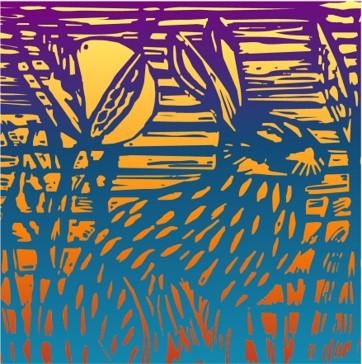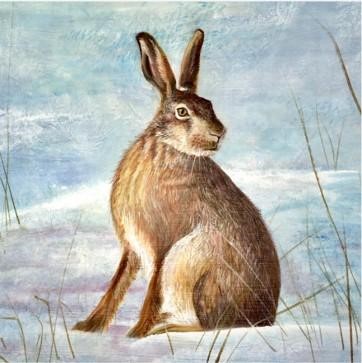 Note
: The Maldon Festival is a registered charity that enables involvement in and appreciation of art, sculpture and music.  This is achieved by staging exhibitions and performances in and around the Maldon District. Like so many charities, the Festival has been badly impacted by the pandemic leading to the cancellation of its 2020 Festival.  When purchasing tickets, the audience is being given the option to waive refunds, in favour of re-booked tickets for the next available performance, or to make a donation to the charity similar to the price of the ticket. 
Prices marked * are concessionary tickets only.
Previous Maldon Festival Programmes

2019 Maldon Festival Programme
Children's Concert - Jonah Man Jazz!
Date: Saturday 22
nd

June - 2pm
A musical romp through the story of Jonah and the Whale featuring children from Wentworth Primary School, Maldon and St Mary's CE School, Burnham. There is no ticket required for this performance but there will be a retiring collection.
Curated walking tour of the festival exhibitions
Date: Saturday 22nd June - 5pm
Venue: Starting at Hayletts Gallery, 2 High Street, CM9 5PJ
We are promoting four exhibitions this year:
Original Prints by Michael Rothstein (Hayletts)
The Focus Group Photography Exhibition (Maeldune Centre)
Alternative Practices. An exhibition curated by John Doubleday (The Octagon)
Date: Tuesday 25th June - 7:30pm
Charlie Chaplin's The Circus and A Dog's Life.
Our silent movie presentations have become very popular. This year, our theme enables us to present two comedies for the first time. Who better to represent the genre than Charlie Chaplin?
We welcome back Jonathan Eyre, one of the UK's foremost exponents of the art of the theatre organist, to provide accompaniment.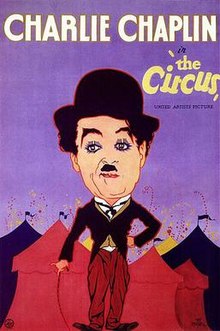 Opera at Goat Lodge, Great Totham
Date: Wednesday 26th June - 7:30pm
(Gates open 6pm)
Venue: Goat Lodge, Great Totham
Hand Made Opera and Pegasus Strings present Bernstein: Trouble in Tahiti and Purcell's Dido and Aeneas. Enjoy a "Glyndebourne experience" in the delightful grounds of Goat Lodge, home to sculptor John Doubleday and his wife, Isobel. Gates open at 6pm, bring a picnic and enjoy the magnificent views!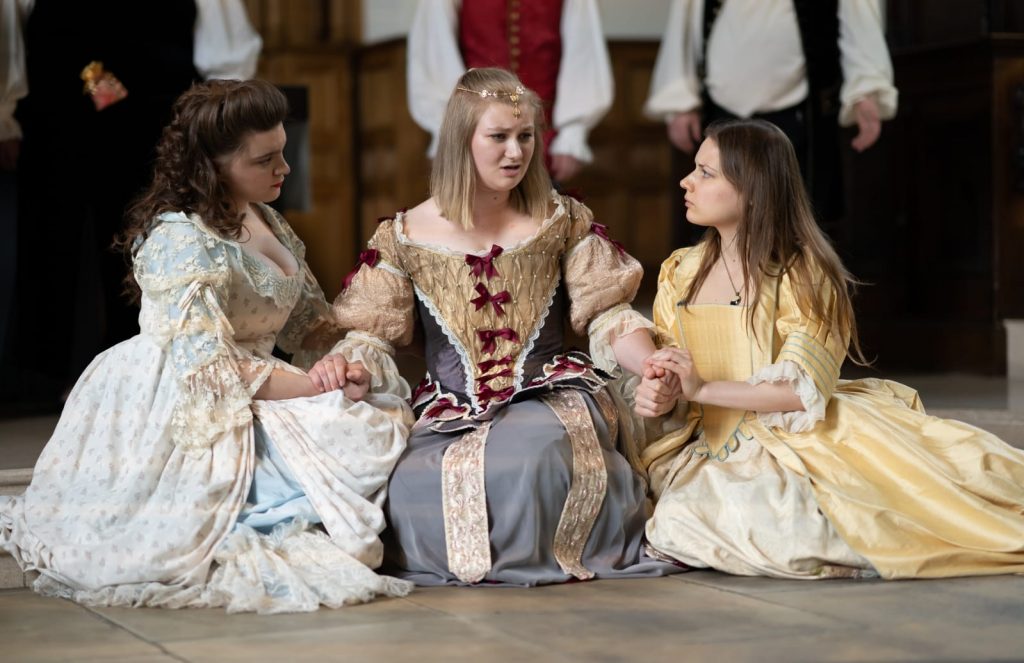 Blondel: All of the Birds
Date: Thursday 27th June - 7:30pm
Blondel is a trio of musicians playing reconstructions of instruments from the thirteenth to seventeenth centuries. The natural world, and birds in particular, provided a wealth of imagery and allegory for medieval and renaissance musicians, poets and artists. They provided a convenient cipher through which human dramas could be played out at a safe remove, and also served to illustrate the harmony of nature, in contrast to human suffering. Imitation birdsong was also a popular medium through which human musicians could display their virtuosity. This concert reflects both the perfection of nature and the artistry of humans in imitating it.
Blondel performs on shawms, bagpipe, and recorders, giving engaging and spirited performances of Medieval and Renaissance wind music.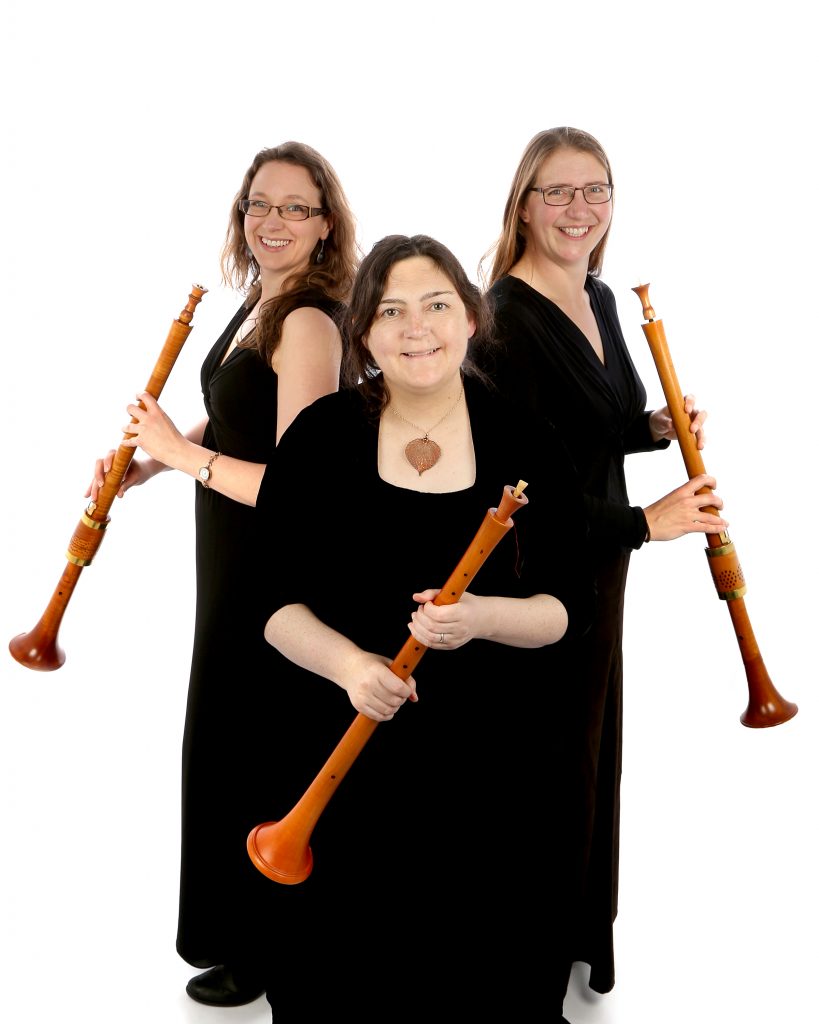 The Debate - John Whittingdale & Andrew Andonis
Date: Friday 28th June - 7:30pm
The politics of staging an arts and music festival in the middle of Brexit is one of the subjects covered by The Maldon Festival Debate. Local MP John Whittingdale (a Brexit supporter) and the Labour peer Andrew Adonis (a staunch Remainer) take to the stage to share their views on Brexit, music and the arts on the June 28th.

Chelmsford Cathedral Girls' Choir Anniversary Concert
Date: Saturday 29th June - 7:30pm
Venue: Chelmsford Cathedral
The Girls Choir celebrates its twentieth anniversary with a programme featuring the music of female composers in the first half, including a specially commissioned work by Grace-Evangeline Mason, winner of the Royal Philharmonic Society Composition Prize 2018, and Bach's Magnificat in the second.
The current girls are joined by former girl choristers and the back rows of Chelmsford and Brentwood Cathedral Choirs, along with baritone Colin Baldy and other soloists and the players of Eboracum Baroque, all conducted by Laurence Lyndon-Jones.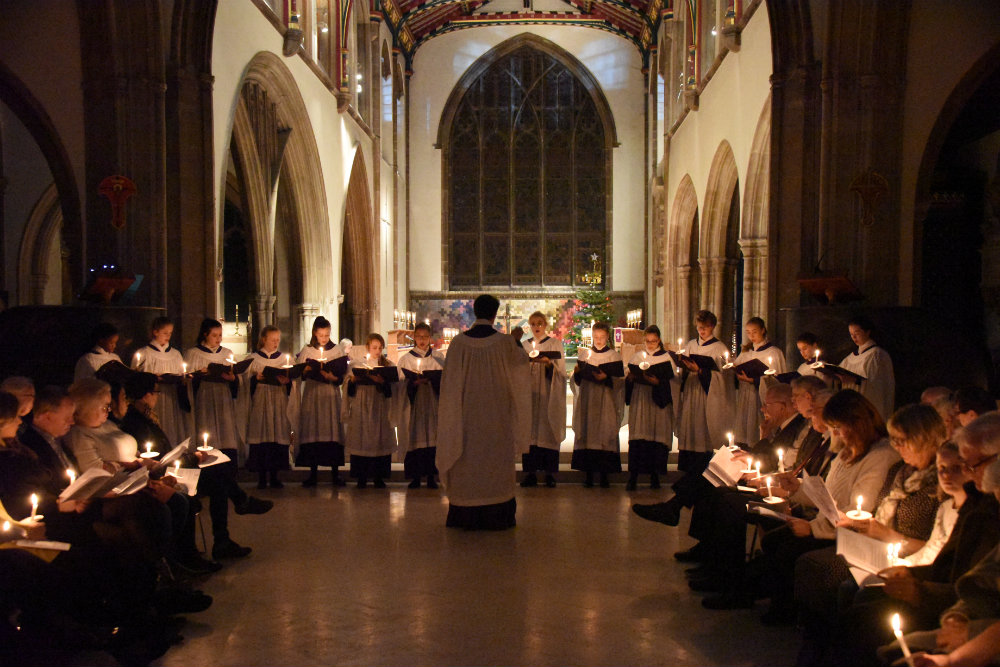 Date: Sunday 30th June - 7:30pm
Kieran Sampson was one the founders and a trustee of the Maldon Festival and did much of the hard work behind the scenes. In February this year he unexpectedly died. Kieran's friends from the professional music world come together to offer a varied programme ranging from Byrd's Masses (sung by St Mary's Choir) via string music by Bach to two pieces composed in his memory: Alan Bullard plays his own Piano Prelude and the choir sings Ivan Moody's In Paradisum. All performers are giving their time free as we raise money to establish a choral scholarship in Kieran's name (he was a founder member of St Mary's Choir in January 2008).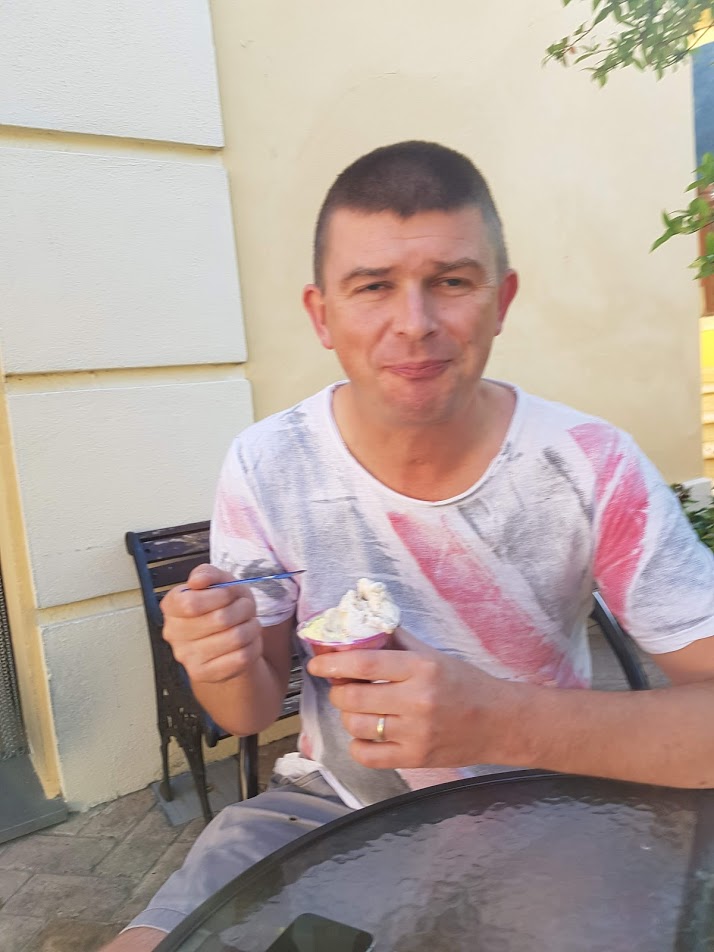 Folk Music at Forrester Park
Date: Tuesday 2nd July - 7:30pm
Venue: Forrester Park CM9 8EA
Featuring local folk group, Shurig, this is a golden opportunity to connect with Maldon's rich folk music heritage.

Shurig is a local band based in Chelmsford. Their music ranges across a variety of styles but central is the Celtic tradition, with foot tapping rhythms and haunting melodies. The line up includes James on vocals and guitar, Izzie on vocals, whistles and flute, Colin on accordion and Paula on cello.
The programme will include a variety of beautiful music from traditional songs and melodies to jigs and reels. Old favourites and some more unusual numbers feature. Shurig is known for its modern take on ancient tradition and for its energetic and entertaining performances.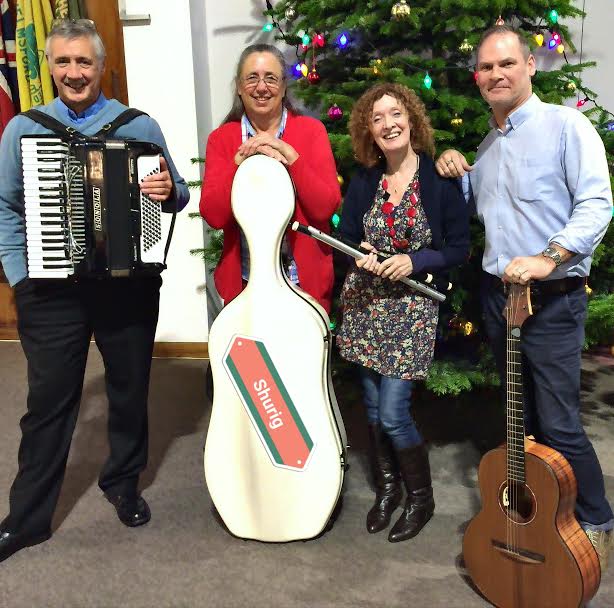 Senegalese Drumming Workshop
Date: Wednesday 3rd July - 7pm
Venue: The Octagon at St Mary's

Cost: Take part - £20 Observe - £5
Modou Diouf is a hugely popular Senegalese star. His effortless mastery of the Sabar drums and huge smile will be set to pulsate through the room, bringing a joy to all those who love his style of drumming. Like festival favourite, Kadialy Kouyate, Moduo comes from a long line of Senegalese griots, official troubadours appointed by the Emperor of the Malinke Empire.
The Sabar drums use hand-and-stick technique with machine gun like cross rhythms, and will require a keen ear and sese of 'call and response' structures.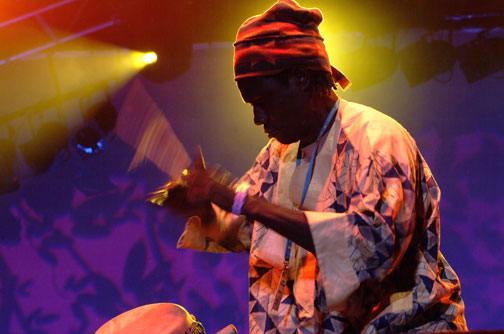 An evening of jazz with Joe Stilgoe
Date: Thursday 4th July - 7:30pm
Joe Stilgoe is an internationally acclaimed singer, pianist and songwriter with a rich musical heritage (his father is lyricist and entertainer Richard, his mother the opera singer Annabel Hunt). His live shows are a mixture of virtuosic musicianship and breathtaking theatricality, combining on the spot improvisation and the quickest of wits. Joe has toured all around the world with his band and as a solo act, having appeared in jazz clubs from New York to Berlin to Kuala Lumpur, including sell-out runs at legendary London venue Ronnie Scott's. He has appeared as featured soloist with orchestras including the BBC Concert Orchestra, John Wilson Orchestra, Royal Liverpool Philharmonic, Northern Sinfonia, Lahti Symphony, and the RTE Orchestra in Dublin.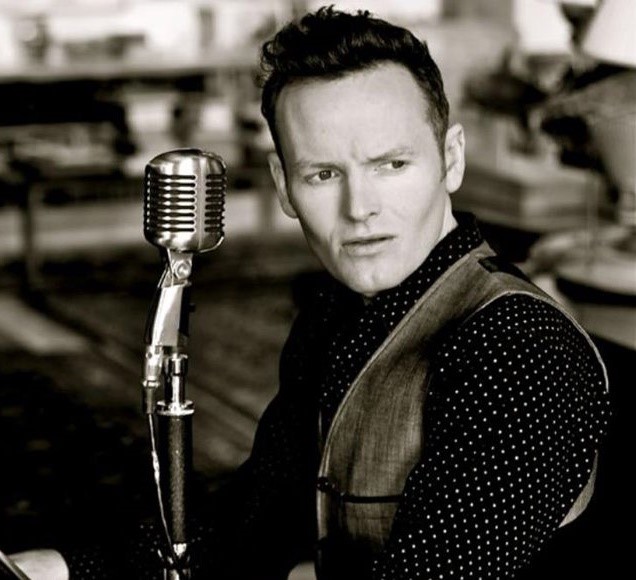 Triptych: Animal Passions
Date: Friday 5th July - 7:30pm
Christopher Weston, piano, Jeffery Wilson, saxophone and Catherine May, soprano, along with their special guest, baritone Colin Baldy, present Animal Passions
An entertaining and eclectic programme of music with links to the animal kingdom; from The Flight of the Bumblebee to Gershwin's Walking the Dog.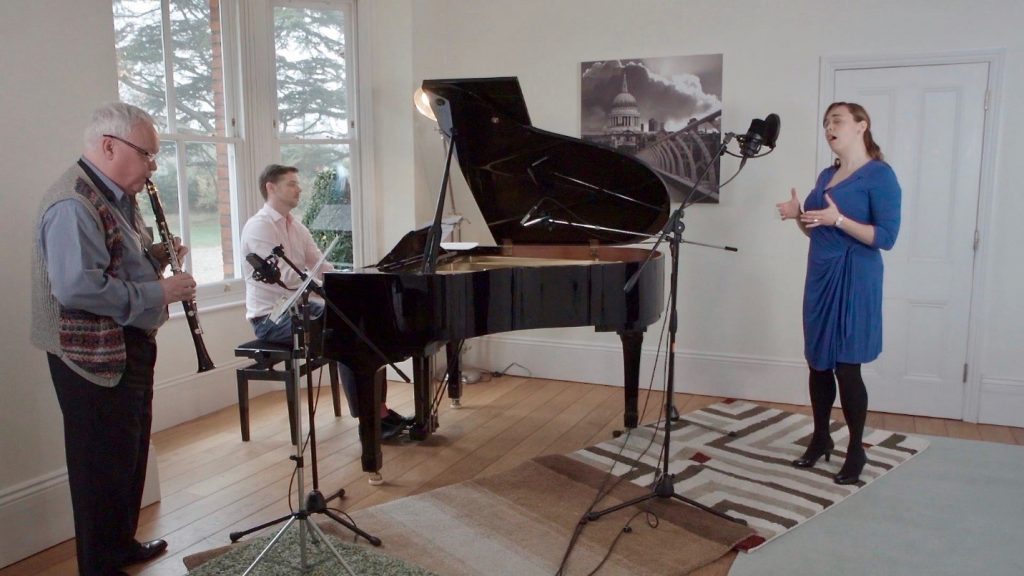 Bristol Ensemble: Haydn's Animal Symphonies
Date: Saturday 6th July - 7:30pm
Haydn: Symphony No 73, La chasse
Vaughan Williams: The Lark Ascending
Haydn: Symphony No 83, La poule
Leopold Mozart: Toy Symphony
A second chance to hear this fabulous orchestra. The Bristol Ensemble is the city's only professional orchestra. It was founded in 1994 by its Artistic Director and lead violinist Roger Huckle. He studied with Frederick Grinke, and was a regular member of Noway's Bergen Philharmonic. Roger now dedicates his time to directing and developing the Bristol Ensemble as well as spending time in Bergen.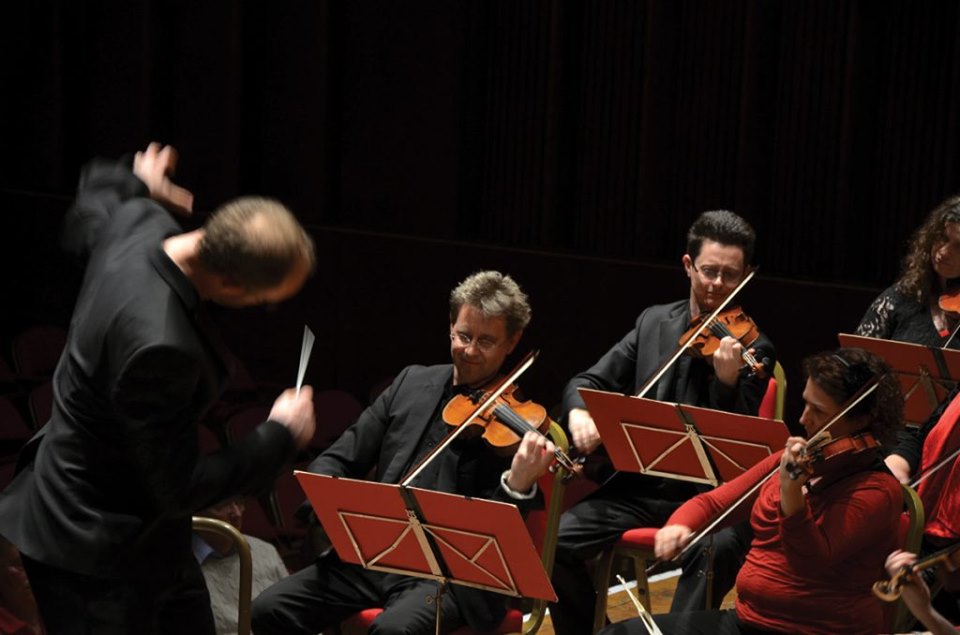 St Mary's Morning Service and Blessing of the Animals & Festival Choral Evensong
Date: Sunday 7th July

10am - Morning Service and Blessing of the Animals

6pm - Festival Choral Evensong