Free Children and Young People's Workshops Announced by Maldon Festival
The Maldon Festival (June 23rd to July 9th) is running four free workshops for young people and children during the 2023 Festival. These provide a wonderful opportunity for local children and students to meet the professional musicians involved in this year's concerts. The sessions include introductions to instruments as rare as the shawm and as popular as the modern guitar. From masterclasses in African drumming to Come and Sing sessions for school-aged children – there is something for everyone to get involved with.
Tuesday 26

th

July:

Schools Workshop – an introduction to African Drumming.

Lucky Moyo returns to the Maldon Festival to lead what is traditionally one of the most popular workshops of the fortnight. Lucky has appeared on tv programmes from Blue Peter to Later with Jools Holland and he is famed for his ability to transmit his enthusiasm and passion for drumming.

Friday 30

th

June:

Schools Workshop -an introduction to Medieval and Renaissance Music

. The Blondel players are famous for their enthusiastic introductions to such instruments as the shawm, bagpipe, recorder, fiddle and gittern. These instruments provided the music would have been heard at country fairs and medieval banquets, entertaining our ancestors and accompanying their dances.

1

st

July:

Children's Come and Sing

: Children from local and regional primary schools are invited to come along and sing for fun at this free workshop. The event starts with a practice session to get everyone warmed up then all the singers will be ready to perform what they have learnt the family audience. Getting children involved with choral music is at the heart of the Maldon Festival and this is the perfect opportunity for first timers to give it a go, with help from local singers and choristers.

4

th

July:

Schools Workshop: An introduction to flutes, lutes and guitars.

Professional duo Frets and Flutes share their fascination with the history of music that combines the flute with stringed and plucked instruments – starting with the historic lute and ending with more contemporary instruments.
Festival Director Colin Baldy commented: "Introducing as many children as possible to the joys of music-making is one of the best things about the Maldon Festival. We are very grateful to all the musicians who have agreed to share their passion for music and to perform for our younger audiences. It is a unique opportunity and one we know the children and students will make the most of. We are particularly grateful to Plume, Maldon's Community Academy for all the help in staging these workshops".
To register a school for the workshop or a child for the Come and Sing, please email themaldonfestival@gmail.com or see www.maldonfestival.co.uk for more information.
Ends May 2023.

For more information please contact: Bobbi Davy at bdavy@clear-group.co.uk or phone 0207 689 5155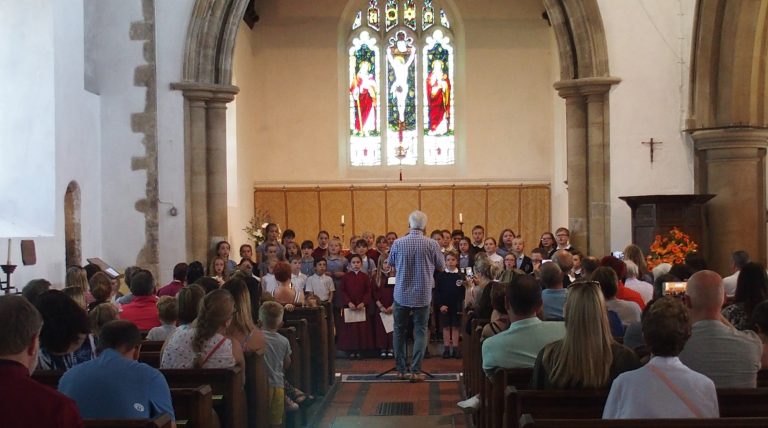 Photo shows:  musicians, singers and directors from the main Maldon Festival concerts will lead the Junior Workshops in 2023 and children singing in the Family concert.